A Boy's First Birthday – Outdoor Adventure Birthday Party!
I love entertaining and throwing parties, but it can be overwhelming and sometimes I question my creativity. Especially with the expectations of party planning on Pinterest these days. Is this how you feel?
When I start to feel overwhelmed and struggle with my creativity, I have to remind myself that party planning is an opportunity for an adventure, and I always choose adventure. So, let's get this adventure started.
Outdoor Adventure Birthday Planning
For my son's first birthday, I chose an Outdoor Adventure Birthday theme. I love this theme because it fits my current life theme, Choosing Adventure, and it is the theme of my son's bedroom.
Pinterest and Amazon are my go-to for searching party ideas. Starting with Pinterest, I saw and loved the trail mix snack bar idea. I was sold on the idea instantly. The trail mix snack bar was a perfect fit with the outdoor adventure theme, was great for little kids, was a lot of fun to create and was overall pretty easy and inexpensive to put together.
After Pinterest, I looked on Amazon for color and decoration ideas, eventually deciding on a brown (dirt) and green (trees) color scheme to represent the outdoors.
Trail Mix Snack Bar
Now that I had the theme, color scheme and the trail mix snack bar idea decided on, I was ready to put the remaining details together. I bought rustic galvanized buckets for the trail mix snacks, little plastic scoops for dishing up the snacks, and brown paper food trays to put the snacks in.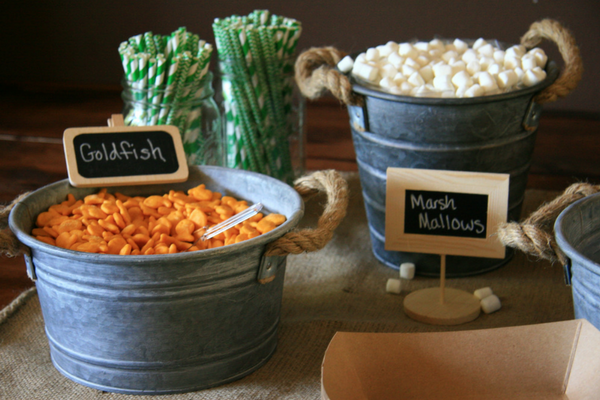 I also bought a burlap coffee sack to set under the decorations to add texture and a rustic look to the outdoor adventure birthday theme.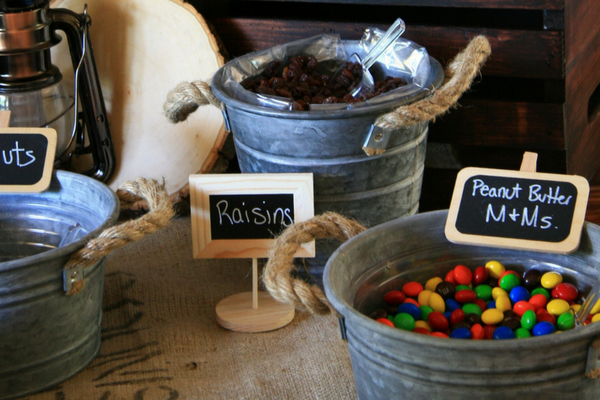 The trail mix snack bar, consisting of Goldfish crackers, Marshmallows, Peanuts, Raisins, and Peanut Butter M&Ms, provided snacks for both the kids and adults to munch on throughout the day into the evening, and it was a huge hit.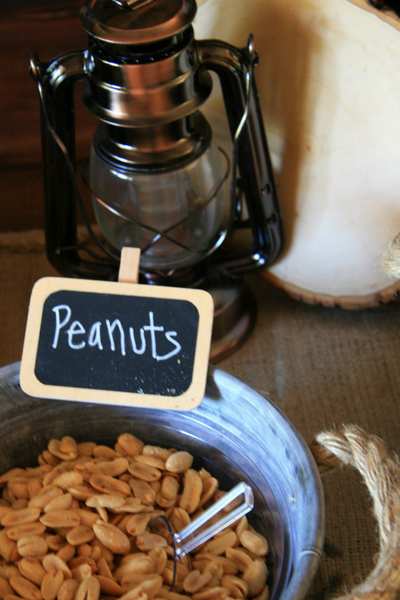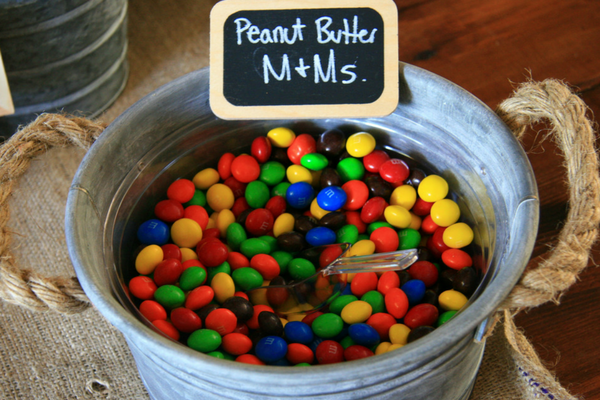 This post contains affiliate links. When you click and buy you support our work at no additional cost to you. Thank you!
DIY Wood Crate Cupcake Stand
While searching for party ideas on Amazon, I saw this beautiful Wood Cupcake Stand
. I love this! I had already decided to make cupcakes for the party and was looking for something to display them on.
This picture gave me the perfect idea – to create something similar using wood crates. My husband was working a lot that week so I had to do this project on my own instead of asking him to do it. This was an adventure of its own.
I loved how my cupcake stand turned out. The height of the larger crate allowed me to display the cupcakes above the trail mix bar, which added height to the overall table display, the stain color looks beautiful, and I used the crates to carry party items and decorations.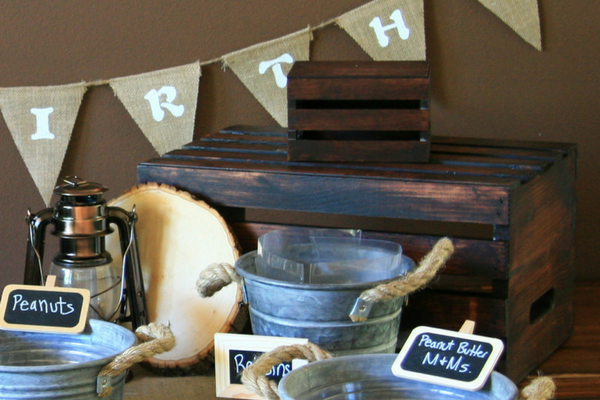 Choosing adventure paid off. The crates aren't perfect, but they worked perfectly for this party and I still use them around the house. This is definitely a victory in my book!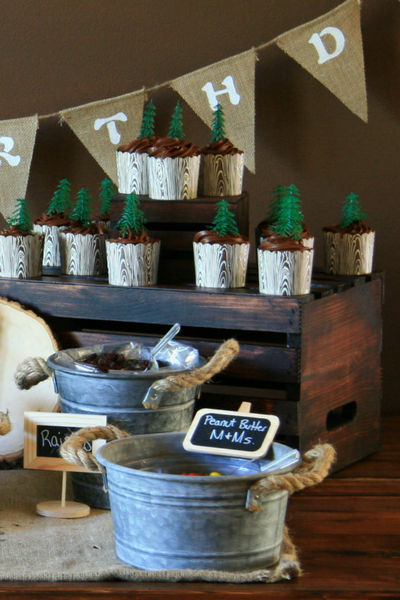 While searching Amazon I also found this Rustic Log Cake Stand
. So cute! Maybe another time.
Dessert: Tree Cupcakes
These are the cupcakes I made for dessert which turned out to be my favorite party decoration. I mean look at these, the wood grain cupcake cups and the decorative trees. So cute!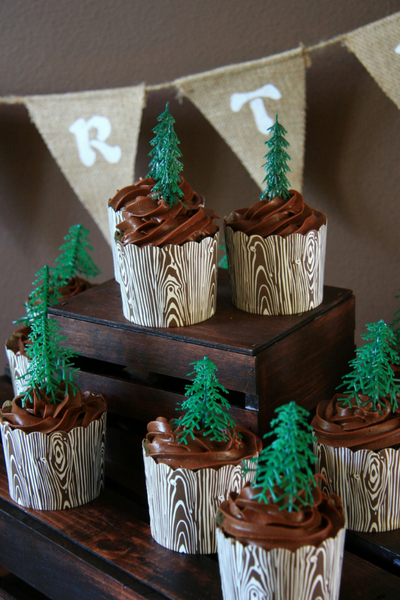 Below is a picture of the layout of the trail mix snack bar and overall party decorations. I love how it all turned out. It helped that my sister-in-law has brown walls and a beautiful wood table to complement the theme. It was perfect.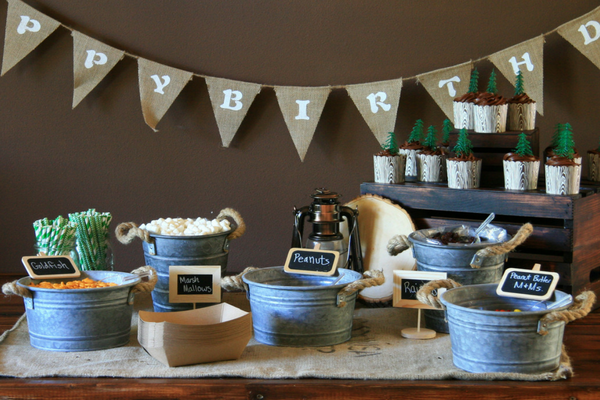 And speaking of complementing the outdoor adventure birthday theme perfectly, wait until you see the picture below with the ski's above my son as he is about to eat his first cupcake – also at my sister-in-law's house…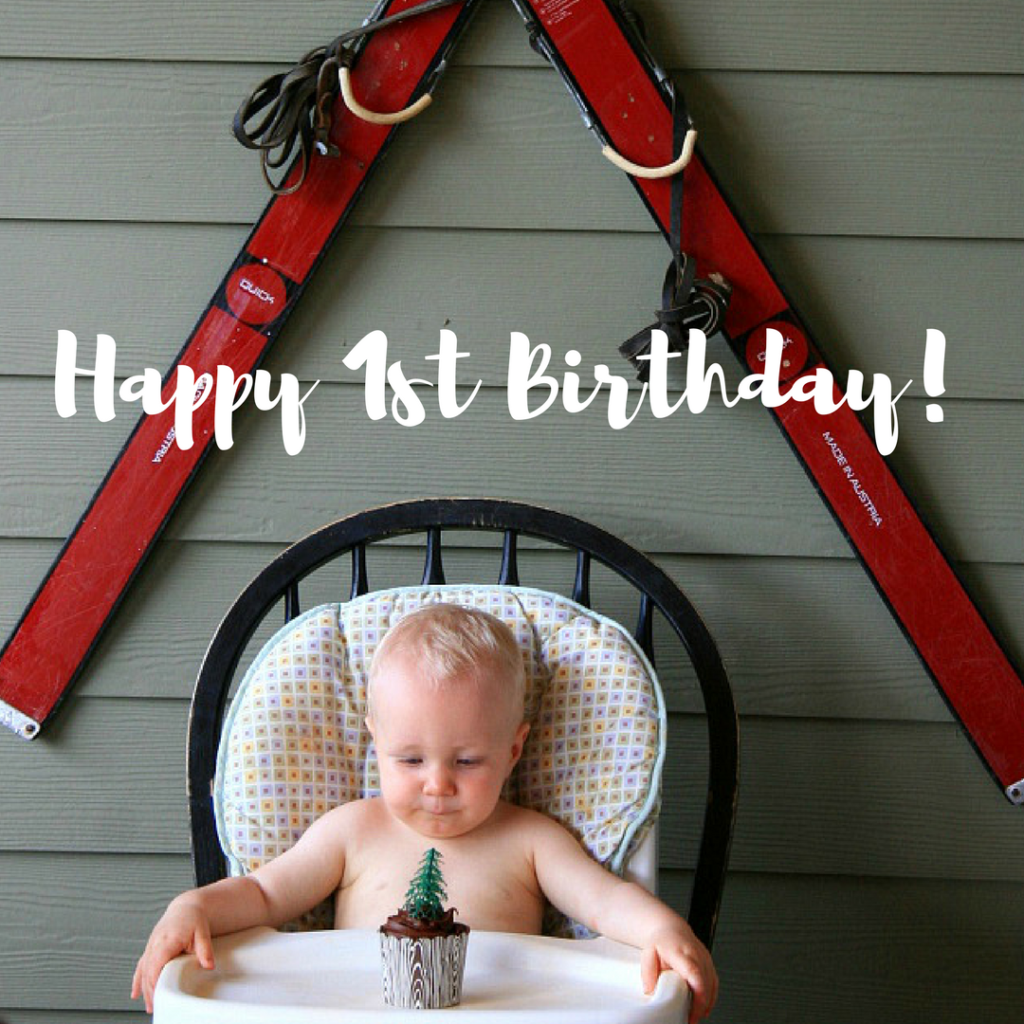 We were going to order pizza for dinner to keep it simple, but my husband, who is the cook in the family, decided to BBQ ribs. He made delicious BBQ ribs paired with the bagged Kale salad from Costco. And to top off the night, my sister-in-law's neighbor brought crab to share. Yummy!
The party was definitely an adventure to plan and organize, but the party details all came together and the party was a blast!
Birthday Party Shopping List
Here is my shopping list for the party. When shopping, I made sure to buy decorations I could use for future parties, and/or as decoration in my house after the party. I don't like spending a chunk of money only to throw everything away afterward. Enjoy!
Thank you for joining me at my son's first birthday party. Party planning is always an adventure.
To many more home adventures,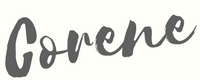 Don't forget to share this adventure with your friends or Pin It for later: